Scallops Recipes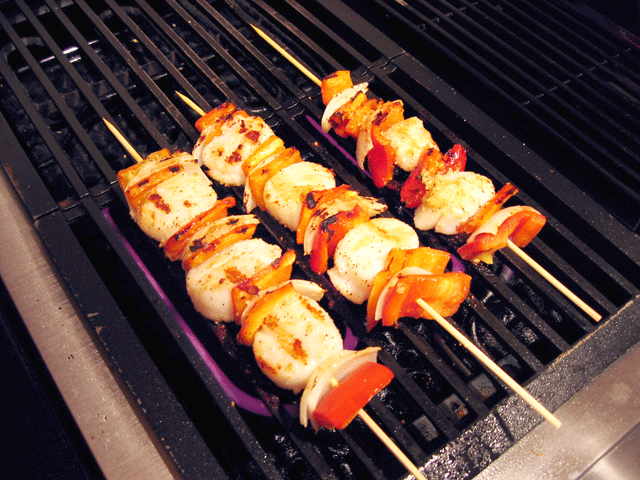 1 (8-ounce) can pineapple chunks
2 tablespoons lemon juice
½ cup soy sauce
1 pound fresh sea scallops
½ pound bacon
1 green pepper, cut into 1-inch pieces
Drain pineapple, reserving juice. Combine pineapple juice, lemon juice, soy sauce, and scallops. Cover tightly; marinate in refrigerator at least 1 hour.
Cut bacon slices in half; cook until limp but not crisp. Drain and set aside.
Drain scallops; alternate pineapple chunks, scallops, bacon, and green pepper on skewers. Broil 3 minutes or until scallops are done.
Shrimp Kabobs: recipe may also be made substituting 2 pounds large fresh shrimp, peeled and deveined, for 1 pound made scallops.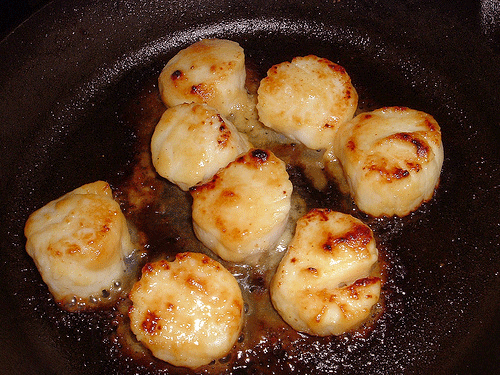 1¾ cups vegetable oil
1 teaspoon salt
¼ cup catsup
1 teaspoon paprika
1 small clove garlic, minced
2 pounds fresh sea scallops
Combine first 5 ingredients in a large shallow dish; stir well. Add scallops, and refrigerate at least 2 hours.
Remove scallops from marinade; place in a 15×10×1-inch jellyroll pan. Pour about 1 cup of marinade in a small pan and bring to a rolling boil. Pour hot marinade over scallops to coat. Broil 2 minutes; turn scallops over, and broil 2 minutes or until done. Serve hot.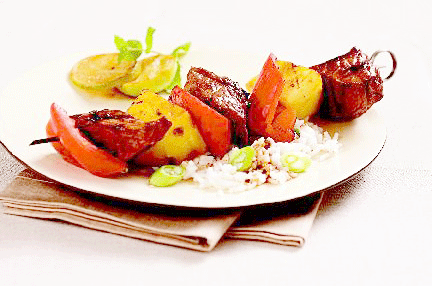 1 pound fresh scallops
¼ cup cooking oil
2 cups cherry tomatoes
¼cup lemon juice
2 cups fresh small mushrooms
¼ cup chopped parsley
1 can (13½ ounces) pineapple chunks, drained
¼cup soy sauce
½ teaspoon salt
1 green pepper, cut into one inch squares
1/8 teaspoon pepper
Rinse scallops with cold running water to remove any remaining shell particles. Place tomatoes, mushrooms, pineapple chunks, green pepper and scallops in a bowl. Combine oil, lemon juice, parsley, soy sauce, salt and pepper. Pour sauce over scallop mixture and let stand for 30 minutes, stirring occasionally. Using long skewers, alternate scallops, tomatoes, mushrooms, pineapple and green pepper until skewers are filled. Cook about 4 minutes over moderately hot coals. Pour sauce into a small pan and bring to a rolling boil. Baste with hot sauce. Turn and cook for 3 to 4 minutes longer.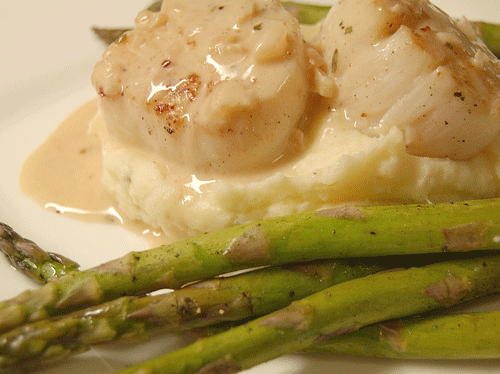 4 ounces spinach fettuccine, uncooked
1½ teaspoons chopped fresh tarragon or ½ teaspoon dried tarragon
1½ cups sliced mushrooms
2 tablespoons sliced green onions
Vegetable cooking spray
1 tablespoon reduced-calorie stick margarine
¼ teaspoon salt
1½ tablespoons all-purpose flour
1 clove garlic, minced
1 pound bay scallops
⅓ cup nonfat sour cream
1 cup dry white wine (optional)
Chopped fresh parsley
1½ tablespoons lemon juice
Cook pasta according to package directions, omitting salt and fat; drain well. Set aside, and keep warm.
Coat a large non-stick skillet with cooking spray; place over medium-high heat until hot. Add mushrooms, green onions, and garlic; sauté until tender.
Add scallops and next 3 ingredients to mushroom mixture. Cook over low heat 4 minutes or until scallops are opaque. Remove scallops and vegetables from skillet, using a slotted spoon; set aside.
Simmer wine mixture, uncovered, 5 to 6 minutes or until liquid is reduced to ¾ cup. Remove from heat. Set aside.
Melt margarine in a small heavy saucepan over medium heat; add flour and salt. Cook, stirring constantly with a wire whisk, 1 minute. Gradually add wine mixture stirring constantly. Cook, stirring constantly, until thickened and bubbly. Remove from heat, and let cool 1 minute. Stir in scallop mixture and sour cream. Serve scallop mixture over fettuccine. Garnish with chopped parsley, if desired.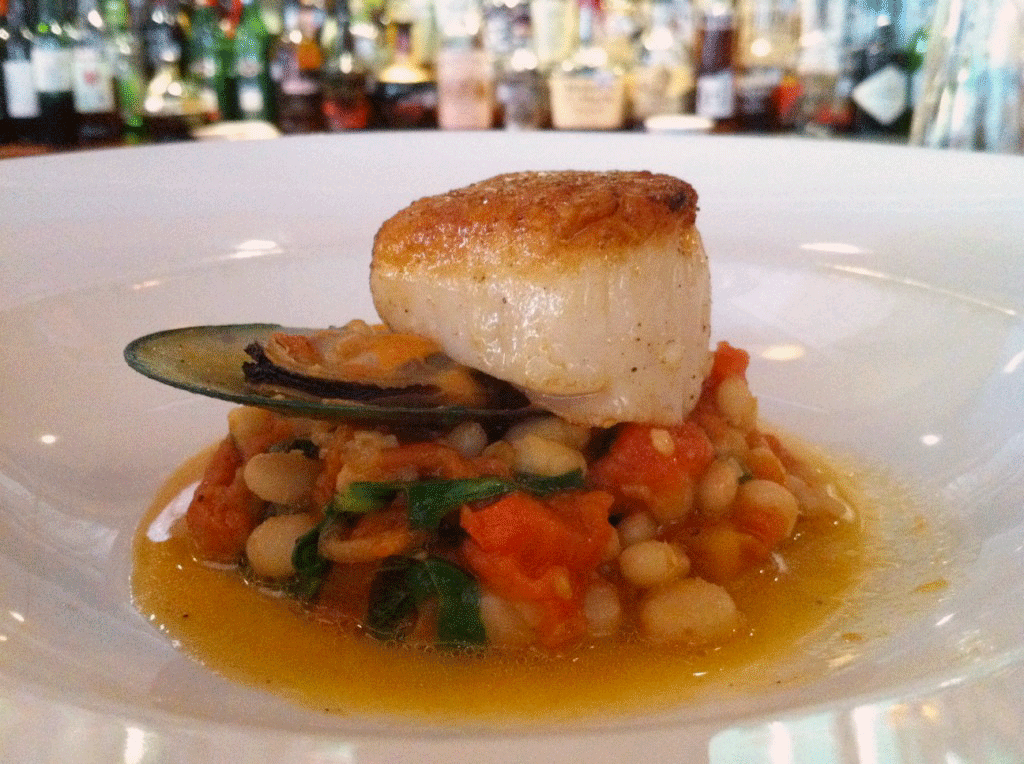 ¾ pound scallops
1 Clove garlic, minced
½ cup margarine
¼ teaspoon curry powder
1 teaspoon chopped chives
½cup cream
1 teaspoon chopped parsley
2 egg yolks
1½ teaspoons celery salt
Thaw scallops if frozen, remove any shell particles and rinse thoroughly. Cut large scallops into 1 to 1½ inch pieces. Combine margarine, chives, parsley, celery salt and garlic in an 11×7×1-inch bake and serve pan and spread evenly across bottom. Cover with scallops and bake at 450 degrees F. for 10 minutes or until scallops are done. Beat cream, egg yolks and curry powder until mixture thickens, then spread evenly over cooked scallops. Return to oven for two or three minutes or until cream sauce begins to brown slightly.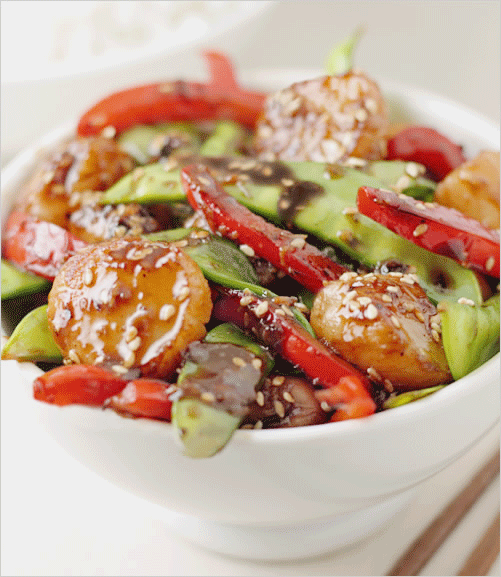 1 pound scallops
1 teaspoon grated fresh ginger
2 leeks
2 teaspoons cornstarch
4 ounces snow peas
2 teaspoons light soy sauce
2 tablespoons peanut oil
¼ cup water
Seafood breading mix
Dash of salt
Wash and dry scallops, then bread. Wash leeks thoroughly to get rid of sand and grit, then slice white part of leeks very fine on the diagonal. Remove strings from snow peas. Heat oil in wok and fry leeks and ginger for two minutes over medium heat. Add scallops and cook one minute longer over high heat, stirring frequently. Add snow peas and cook one more minute, then push all ingredients to side of wok.
Pour in cornstarch mixed with water and soy sauce and stir until thickened, about one minute. Stir down scallops and vegetables from side of wok, add salt. Serve immediately on bed of braised lettuce.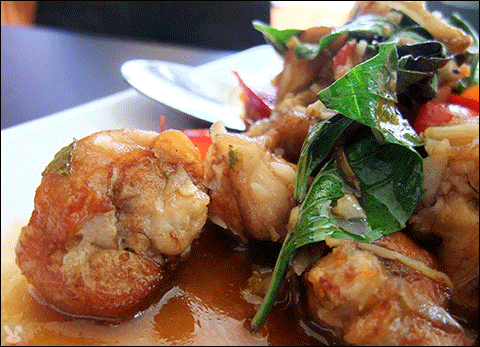 12 scallops
Salt to taste
½ green pepper
2 tablespoons white wine
½ red (sweet) pepper
Wash and clean scallops, cut red and green peppers into ½ inch squares. Salt lightly and sauté scallops and peppers together until tender. Season to taste. Sprinkle with white wine and serve on toast with fried potatoes.