'Ghostlike' Octopus Spotted Deep In Pacific Ocean Near Hawaii Island!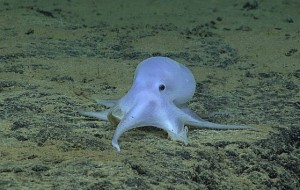 "A ghostlike Octopus has been spotted in the Pacific Ocean and its photos have gone viral in the social media. Some people have named it, Casper the Friendly Ghost Read more about it here!"
Source: NDTV
NEW YORK: A sea exploration team has located a "ghostlike" octopus in the deep water which seems to belong to an unknown species of the underwater animals. It has been spotted at 3km from the surface of the Pacific Ocean near the Hawaii Island, the underwater research team from the United States has said.
Its photos have become viral on the social media since it has been spotted. The smooth-white underwater animal has been nicknamed as the "Casper the Friendly Ghost" by Twitter users. Its photos which have been captured using cameras mounted on the craft at a high depth of 4,290 meters have become a matter of the talks on the web, the National Oceanic and Atmospheric Administration said. Depicting the creature as an incirrate octopod, the NOAA said that it belongs to the one of two major groups of octopods, which is the very first time has been seen at such a depth in the ocean.
"This creature was a rare kind with no pigment cells in its body. This strange-looking and the uncommon creature was seriously deprived of Chromatophores by nature," stated by Michael Vecchione who is a key zoologist researcher in the team of NOAA's National Marine Fisheries Service. It is said to be related to the family of Cephalopods which usually consists of squid, octopuses and cuttlefish.
Vecchione revealed that this kind of octopod has never been identified by the researchers and probably belongs to that species which have no previously explained in the books before. The final verdict is yet to be published and he couldn't be reached for any further remarks on the topic.
NOAA has posted a video on their site demonstrating a pale, round creature with bland eyes and drowsy arms lying on the floor of the sea. Its appearance drove some Twitter users to comment that it looked like the toon character, Casper the Friendly Ghost.
This discovery came to disclosure amid 2016's first dive of the season from the Okeanos Explorer, a boat that runs its operations under NOAA and indulges in investigating less-known parts of the seas.
The octopod came across the remotely operated submerged vehicle "Deep Discoverer" when it was near the Necker Island, located on the northwestern part of the Hawaiian Archipelago.
Related Links: