Dead whales found near the coast of South Australia
On Monday morning – Six whales were dead and appeared on the seashore near Ardrossan on South Australia's Yorke Peninsula, and the seventh whale was found in another place near the sea.
On Tuesday – A fisherman has also reported seeing an eighth sperm whale in the shallow water north of the silo jetty.
Mr Ruddock with his son, Josh, measured one of the dead sperm whales and it's about 13 meters long. After measuring, he said "Three whales are look same in size, and the other three are a fraction smaller."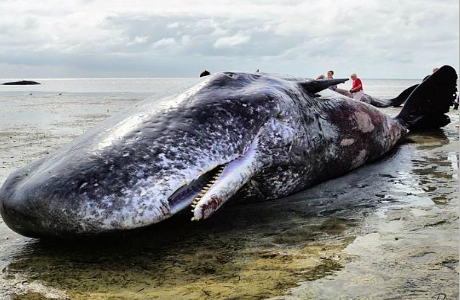 Cath Kemper, senior scientist at the South Australian Museum said "In all my experience of 30 years in the museum, we've never had a group of sperm whales come up."
"I believe something has happened out beyond the Gulfs, in the big sea south of South Australia and it is led either one or more of them to make a mistake or something is wrong with it, because they have such amazing social cohesion, so they stick together as a group. If one is in trouble and they come into sea shore, the rest of them follow," she said.