New Zealand diver William Trubridge (34 yrs) challenged to beat the world record of 102 meter, but his attempt turns unsuccessful in the Bahamas.
Trubridge has taken the honor of the world record for going underwater of 101m without using any diving equipment and snorkel in 2010.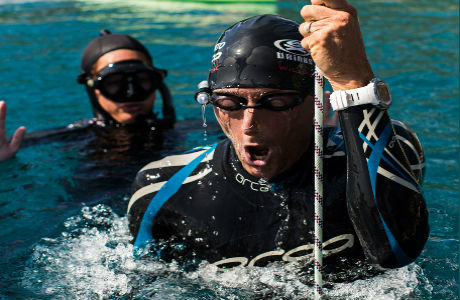 A 34-year-old reached his goal in below 20-minutes, but had to grasp the safety rope around 20 meters from the surface, signaling to safety divers he wanted help.
Trubridge said "I was disappointed, but humbled by the support" and also added "There's certainly a disappointment about not reaching the goal that I set for myself. Everyone's really been supporting me a lot and I'm thankful for that. I'm sorry I wasn't able to bring it home."
Safety divers said "He is unassisted and uses nothing but his power from his body."
Dean's Blue Hole, where Trubridge broke his first world record in 2007, is the world's deepest saltwater water-filled sinkhole and has a depth of 202 metres in a bay west of Clarence Town on Long Island, Bahamas.
The 34-year-old Trubridge said "We're doing another event in April or May 2014 here in the Bahamas, in the spring, so I'll probably have another crack at it then. This is just a plot twirl. I will eventually attempt and get this record. "