Scientists from the USA, UK and Australia developed an underwater robot; they said "this mission provides a perfect ice thickness measurement from areas that were previously not easy to access."
With the help of satellite, they can measure the large-scale thickness of the ice above the sea level. But it's difficult to measure ice thickness – below the surface of the sea. With the help of this mission AUV (Autonomous Underwater Vehicle) known as SeaBED is easy to measure.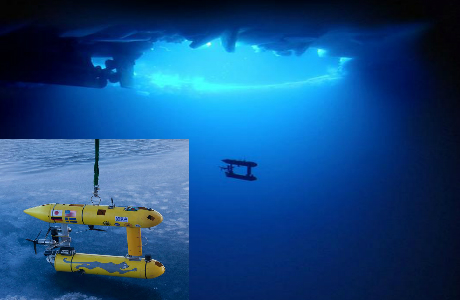 Before the mission, they measurements made on the sea ice by slicing outlets, together with visual notes from ships are not easier for building a more complete picture; sometimes the data are not clear in getting access to thicker areas of sea ice leaves gaps. SeaBED has an invaluable new tool to fill this gap. This mission is operated at a depth of 20-30 meters and was driven in a lawn mower pattern, which is weighs nearly 200 kilograms and has a twin-hull design that gives the robot to have better stability for low-speed photographic surveys.
Hanumant Singh is an engineering scientist at the WHOI (Woods Hole Oceanographic Institution) who operated the AUV, says "Putting an AUV together to map the underside of sea ice is challenging from a software, navigation and audio communications point of view."
Co-author for BAS (British Antarctic Survey), Dr Jeremy Wilkinson says that "'The AUV missions have given us a genuine insight into the nature of Antarctic sea ice – similar to looking through a microscope. Now we can calculate the ice easily in a distant with better facts and were animated to measure ice up to 17 meters solid."