Artist: Jason deCaires Taylor
Depth: 9 to 20 ft (2 to 6 m)
Location: Cancun Island, Mexico
Visit hours: 9.00 am to 3.00 pm
Description
The task started in November 2009 with placement of a hundred statues in shallow waters of the Cancún National Marine Park, which had been previously destroyed by storms.
Taylor casts his life-size sculptures from a particular form of cement (pH-neutral marine concrete) that are made to look like members of the local community. Some corals such as fire coral were planted on and close to the initial sculptures. The sculptures themselves however will also become roofed with coral over time, due to the natural multiplication of corals already present in the vicinity.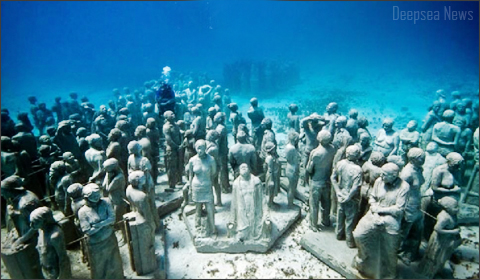 A total of 500 statues in three different galleries comprise its collection at the end of 2013. This book brings readers face to face with these wonders and explains the science behind their founding.
In Manchones display room the Museum gathers 477 elements while in Nizuc there are 23. Other 26 models have been located at a Visitor Center at the Kukulcan Mall in the Hotel Zone. Nearly 200,000 visitors visited MUSA during 2013 out of 500,000 that visit the Government Protected Area.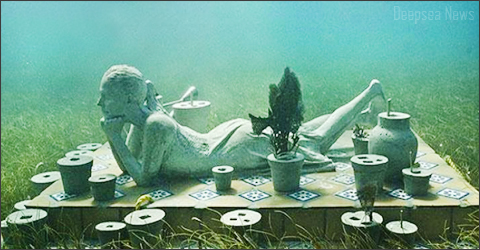 Come and visit the famous "man on fire sculpture" as a figure that is embraced with fire coral grows, or the "Collector of Dreams" a sculpture with various in-bottled messages of peace and environmental health as well as the "Jardinera de la Esperanza" which gathers different kinds of coral formation as an underwater garden.