An Australian man Attacked By Two Great White Sharks and lost his arm and hand, now he still alive
Last year in October, an Australian man of 23-years-old Sean Pollard went to the beach (near to the Esperance in Western Australia) with his girlfriend Claire Oakford.
Pollard says, while surfing that he felt a strong bump by the shark.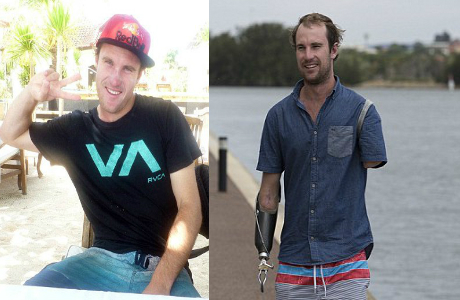 He said, "I spun around to try and face it. It just moved so quickly. That's when it comes up out of the water; I didn't even see its teeth. It took me like across, and its eye was right there in front of me. Its eye was the blackest black I'd ever seen, and that's just a vision that's burnt into my mind. I can't get it out, just this cover going over its eye as it bit down on me."
A 23 year old man says that his forearm was ripped by the shark.
He stated that his arm was in the mouth of the shark.
"I popped up and that's when I got bumped from behind – Another shark"
"I was kicking my legs as fast as I could, mate," he said.
He stated that the wave carried him away from the shark attack.
Pollard says, he feels happy for still alive.
His girl friend Claire Oakford says that she was watching entire attack in shock.
He injured badly and losing a huge amount of blood, with the help of emergency he travelled over 700kms from the remote beach to the Royal Perth Hospital. His injuries required months of therapy.