AirAsia Flight 8501: Four big objects found underwater
With the help of Sonar technology, search team of Indonesia found four big objects underwater; they believe that these objects belong to the missing AirAsia Flight 8501 in the Java Sea.
Only 30 dead bodies have been found and these lifeless bodies were floating in the choppy seas around the wreckage and glossy oil.
The director general of air transportation is Djoko Murdjatmodjo said "We are going to study all AirAsia flight schedules. Expectantly we can start on next Monday. We focus only on schedules of AirAsia flight but not licenses," and also added "It is possible Air Asia's license in Indonesia might be cancelled."
Search and rescue agency chief Soelistyo stated about objects that were found in the Sea "The two big objects were found on Friday (Before Midnight)," and also added "the first object measured 30 feet by 15 feet by 1.3 feet (9.4 ms by 4.8 ms by 0.4 ms), while the second object is 24 feet by 1.6 feet (7.2 ms by 0.5 ms)."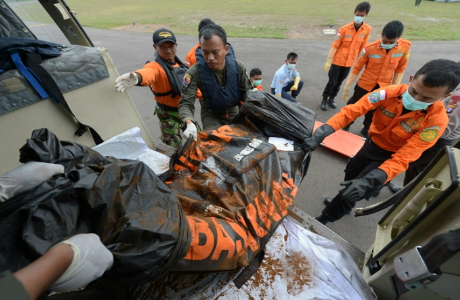 Before disappear, the plane was flying at 32,000 ft (9,753 ms) and the pilot asked to the air traffic controller to ascend the flight at 38,000 ft. They permitted to fly at a height of 34,000 ft, later on there is no signal from the pilot.
A spokesman Julius Adravida Barata said "As of Jan. 2, 2015, the license of Surabaya-Singapore (return) route to Indonesia Air Asia is temporarily frozen until after there is a result of evaluation and investigation."